I'M PREGNANT!!!

Okay, so you already knew that....but I am finally posting pics of my cutie and how it all went down (telling Jeff, that is, you probably don't want to know anything before that :)

I first found out February 1st, and yes, we were trying. That seems to be a popular question when you are pregnant with #3. In other words, people are saying, what were you thinking? I was absolutely ecstatic! I took a digital test, which is absolutely the coolest. Gone are the days of searching for the little blue line!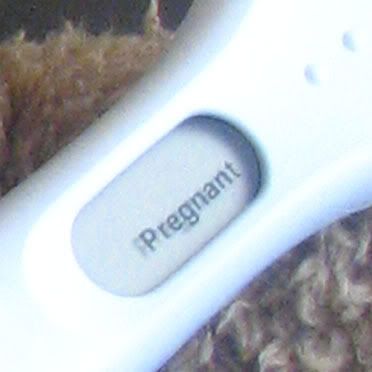 I called my sister right away because I had to tell someone! But then I kept the news from my hubby until the next night. So this is now my fifth pregnancy, and with everyone (except the first) I told him in some creative way. I was running out of ideas here, and in case you didn't know, we aren't really super sappy people. So that's my disclaimer. Anyways, I put a hamburger bun in the oven, and when the timer went off, I asked him to take it out. He said, what is this? I said, "It's a bun...in the oven." He told me I was weird, then I said, "you know like a bun in our oven." Then he was pretty excited, and said the funniest thing to me, "I can't believe it worked." We then told the boys, and Austin was super happy! He has been wanting me to have another baby for forever. Of course, the first thing he said was, I hope it's a girl! He kept it a secret for a whole month! He is so sweet with this pregnancy. He is constantly kissing my belly and telling me how much he loves the baby. He told me one day when I was dancing pretty crazy to Guitar Hero, that he didn't think that was good for the baby :)

Here is our cutie pie at 8 weeks!



Then at 9 weeks!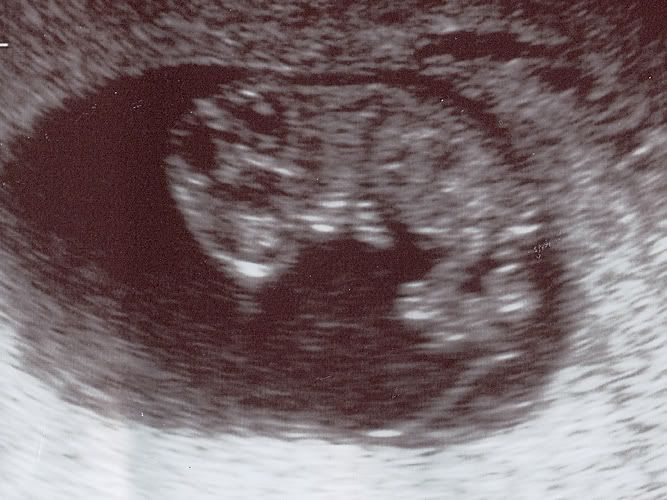 S(he) grew legs in one week! Isn't that crazy! Let me tell you when I saw that heartbeat, I was the happiest woman alive. I had a good feeling about this pregnancy from the get go (unlike the ones I miscarried), but still I have never had a successful pregnancy from the beginning. I miscarry, then everything goes well. I just couldn't believe I could have this miracle without experiencing my heartache first. God is so good!

And here is me at almost 3 months.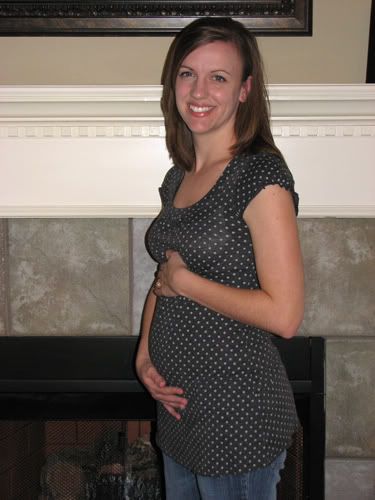 My waist has already grown 3 inches (the same as when I was FIVE months preggo with Brenden!) and I have gained 10 lbs!
So there goes the whole story! Whew, that was long! But I feel better now! :)