The Day Has Come

The supplies were bought; clothes were bought; lunches all planned out, but I wasn't ready....Austin's first day of Kindergarten! He was ready, though!! He had a hard time going to sleep last night (who doesn't the night before the first day of school). He was excited to wake up with his daddy's I-phone as his alarm (his alarm has been ordered), got dressed all on his own, then came to the breakfast table. When asked what he wanted for breakfast, he ordered bacon, eggs, and toast. Then we were off...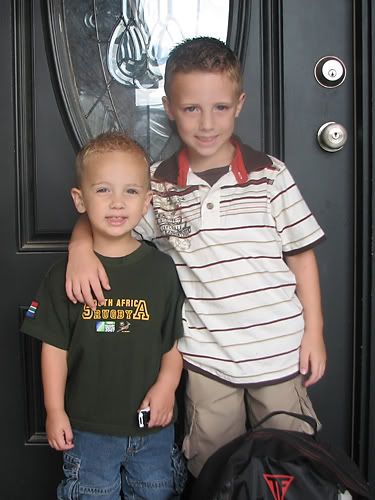 I walked Austin into his school so he wouldn't get lost, but the funny story is as we were walking down the hall, I started to go into the class, and Austin wasn't with me anymore. I looked in front of me, to the side, behind me, and all I saw was lots of students and parents but no Austin. I thought, Oh poor thing, he went into the wrong classroom. So I went back, and found him, but it wasn't the wrong classroom. Austin knew right where he was going, I was the one getting lost. I guess he is all grown-up! He went right in, put his backpack in his locker, and went to a table to color. Jeff had lunch with him today, and said he is doing great. He was excited about his "napkin note" because there were several kids who had them!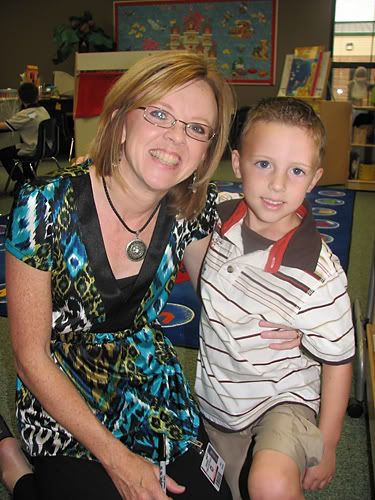 Here is his teacher, Mrs. Baker. Annie-you might know her?? She is from the Owasso 4 year old program. I was excited to see that she is a Christian and vocal about it. She had her information up for Student of the Week, and included in that was that she was a child of God, and her favorite book was the Bible. She also sent home a paper about herself, and included in that was that she has been a member of First Baptist Church for 6 years and is very involved. I was so relieved and happy, since I was nervous for Austin to go to a public school! God is good!