Welcome Casen Blake!!

Casen made his appearance October 10 at 1:46 am. He weighed 7 lbs 2 oz, and was 20 1/4" long. That's the short version, for the long version read on (if you haven't already heard it).
Beware, it's long!
Thursday night Jeff, Kylie and I were upstairs just talking for a couple of hours. We kept telling Kylie she needed to get home before she got in trouble (but I am glad she didn't listen to us.) At 11:30, I felt this pop in my stomach, a really weird feeling, and my pants started filling up, Jeff was very happy that I was sitting on a leather chair. We got in labor mode. Told Jeff to pack the car, get Austin's stuff ready for school tomorrow, and I jumped in the shower. At 12:15, I started timing my contractions because they were pretty painful and they were coming 2 minutes apart!! Jeff jumped in the shower, ironed only one side of his shorts, because I told him we HAD to go!! We get to the hospital a little before one. Iwas taken to the exam room to be asked a million questions. I was 4 cm. 15 minutes later, they took me to my room for more paperwork, which I couldn't finish, and I asked them to check me again. I was in ALOT of pain and the contractions were coming really fast. She checked me and I was an 8!!! IN 15 MINUTES!! So, they called my doctor, and got me ready to deliver. If things weren't crazy enough, Casen's heartrate took a large descent to the 60's and the room filled up with nurses. I put on an oxygen mask and had to keep changing positions, and was praying in my head really hard that he would be okay!! I kept looking to Jeff, who was the absolute best coach, and kept telling me it was all okay! My doctor came, I had to push! As she was putting on her gown and gloves, I pushed once, out came his head, and twice, here came his body!! It happened soooo fast, and it was so wonderful!! (so fast, we have no video and hardly any pictures). The reason for his heartrate decrease was 3 fold, the cord was wrapped around his neck, he went so fast down the birth canal, and he had a "true knot" in his cord. This is the reason that some babies are stillborn, so we are thanking God for our little miracle!! Casen is absolutely amazing. I am so glad we are now home, and we have our 3 boys!! Life is great!

Here is the knot in his cord....



Some people look really beautiful when they give birth! That would not be me, but I am not ashamed to show you what I look like in labor! It's hard work....I am ALMOST proud :)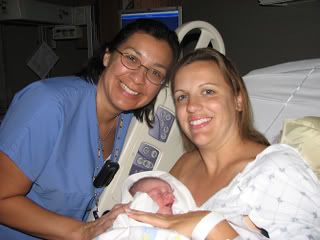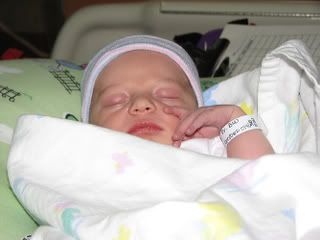 Austin and Brenden LOVE him!! They both love to touch him and hold him, and Brenden hasn't shown any signs of jealousy!